San Jose to Bocas Del Toro (Caribe Shuttle, Boat & Lunch)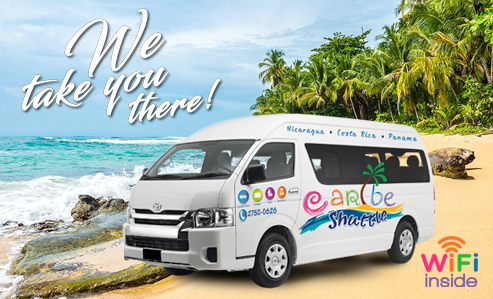 Duration: 10 Hours (approx.)
Product code: P7KJ9B
Book your round trip now and save $10.00!!

Please expect extensive delays for this route due to major road construction on hwy 32.


Getting from San Jose, Costa Rica to Bocas del Toro, Panama has never been easier. We take care of everything. We even throw in Lunch. We will pick you up at Denny's restaurant at the airport, or many of the hotels in the downtown San Jose area in an air conditioned late model shuttle van.

We then drive direct to Banana Azul where you will spend an hour or two having lunch and enjoying this beautiful little resort hotel on the beach in Puerto Viejo.
From here we pick you up and make the 1 hour trip to the border. Our guide will be there to assist you with the immigration process leaving Costa Rica and checking into Panama.
Our shuttle van will be waiting for you on the Panama side to continue the journey to Bocas Del Toro. The shuttle will drop you off at the Bocas Marine Tours dock in Almirante where you will take a boat the last 30 minutes of the journey through patches of mangroves and various islands to the Bocas Marine Tours dock on main street in the heart of Bocastown.
Itinerary:
6:00 am to 6:20 am: Airport pick up (Denny's Restaurant) *(see important notes)
6:20 am to 6:50 am: San Jose city hotel pick ups.
6:40 am to 11:00 am: Travel to Puerto Viejo
11:00 am to 12:30 pm: Lunch at Banana Azul
12:30 pm to 1:30 pm: Travel to the border
1:30 pm to 2:30 pm: Border crossing (Costa Rica time)
3:30 pm to 4:30 pm: Travel to Almirante (Panama time-1 hour forward)
4:30 pm to 5:00 pm: Boat to Bocas Town
IMPORTANT NOTES:
There is an $8 tax to exit Costa Rica. This fee is not included in the ticket price.
Please have your passport, and printed flight itinerary with you for immigration officials. Panama is only accepting flight itineraries for entry into Panama. (No bus tickets)
Your flight can be from anywhere in Central America back to your home country.
* For airport pick ups, it is necessary for you to take a taxi to the nearby Denny's restaurant where our shuttle will be waiting for you at 6 AM. (No shuttle service is allowed to pick up at the airport)
Pick-up time is an estimate and may vary by 15 minutes either direction. Clients should be waiting at the assigned pick up point 15 minutes before the assigned pick-up time. The shuttle will wait for clients a maximum of 5 minutes. If after that waiting period the client is not on board, the shuttle will leave without the client and the client will NOT receive a refund.
You are allowed 1 large bag or backpack and 1 carry on size (computer bag) per person.
There is a $10 fee for each extra piece of luggage, odd or over size/weight luggage, surfboard bag (Surf boards up to 6 ft 5 in)
Please expect extensive delays for this route due to major road construction on hwy 32.